Never Alone
Telehealth Ecosystem | Admin Application
Never Alone is a telehealth ecosystem that connects patients with Care Givers and Providers in order to help them age in place. While working at Digital Scientists, I was lead designer for 2+ years, working to help craft an end-to-end HIPAA compliant family of patient facing and back end products. This project overview is focused on the backend Providers and Care Partners product.
Team
2 product designers

1 researcher

4 - 7 developers

1 project manager
My Role
Lead Product Designer

Research

Workshop facilitator

Visual design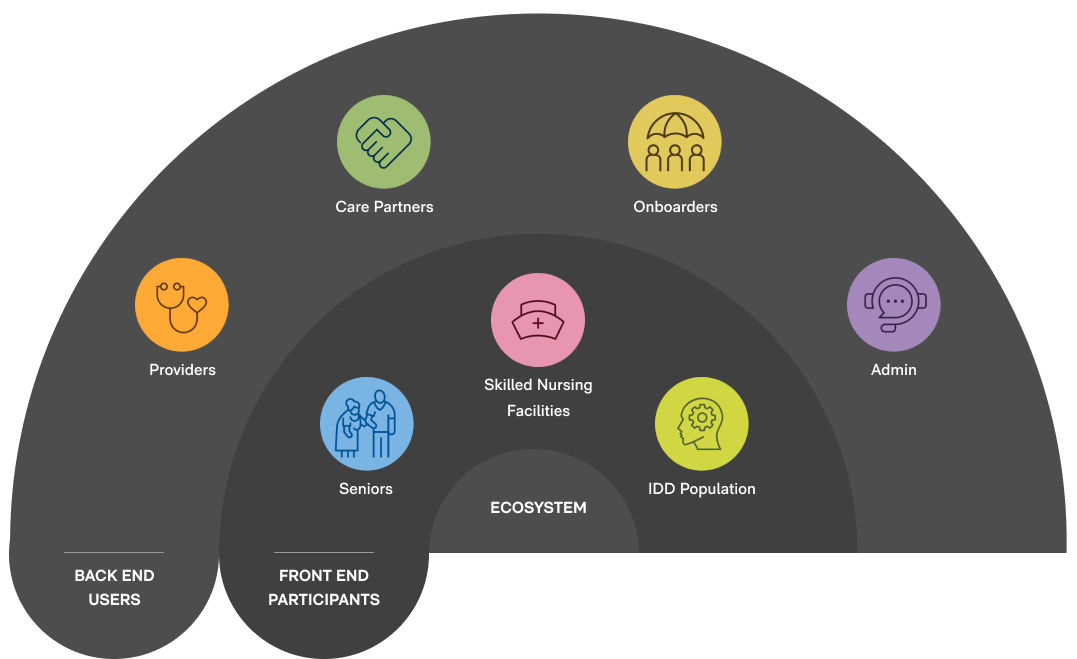 Ecosystem Overview
Never Alone is an ecosystem of products that helps participants connect with healthcare providers and care partners. We designed and developed both the patient side applications as well as the provider and care partner portals. In total the ecosystem consists of:
7 products total

3 participant applications

4 back-end organizational portals
Problem
After completing a patient facing telehealth application for seniors, our client identified a problem with their current backend setup. A combination of Amazon Chime, Tablaeau and Salesforce was being used for calling, reporting, and records management, but the system was fractured and problematic.
Objective
We were tasked with consolidating all of this functionality and improving on the experience, customized to our unique product ecosystem. We needed to create a HIPAA compliant, EHR and queue management system with calling and reporting.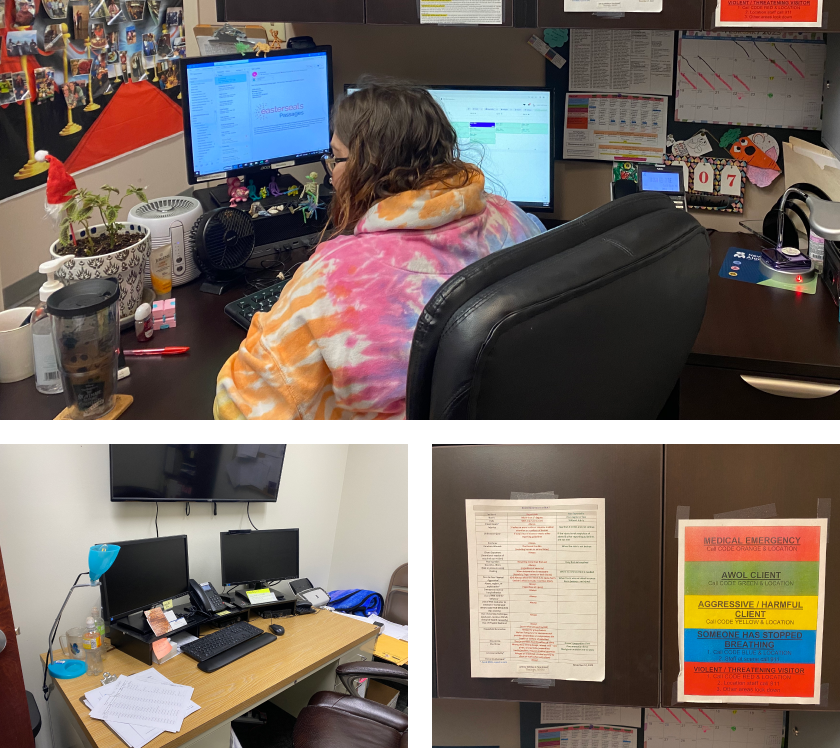 Research Methodologies and Overview
At this point, we had already been working the Never Alone team for over a year. We had mainly focused on the end users, but had become very familiar with the Providers and Care Partners, both personally, and from a day-to-day activities perspective. Our initial research consisted of:
Discovery and precedent study

Site visit and documentation

Remote surveys

1:1 Interviews
A more Refined and Focused Experience
This project was initially specifically for Care Partners on a very specific size screen setup. It slowly expanded to providers, admins, on-boarders, and more. This then compounded when it shifted from an internal solution to a B2B SaaS offering. A unknown amount of undefined roles and use cases demanded a need for flexablity. The initial design had to be overhauled, this included:
Maximize screen space for smaller screens

Rethink and remove unused components

Re-architect layout for responsiveness

Centralize and systematize calls and tasks

Rethink IA for primary navigation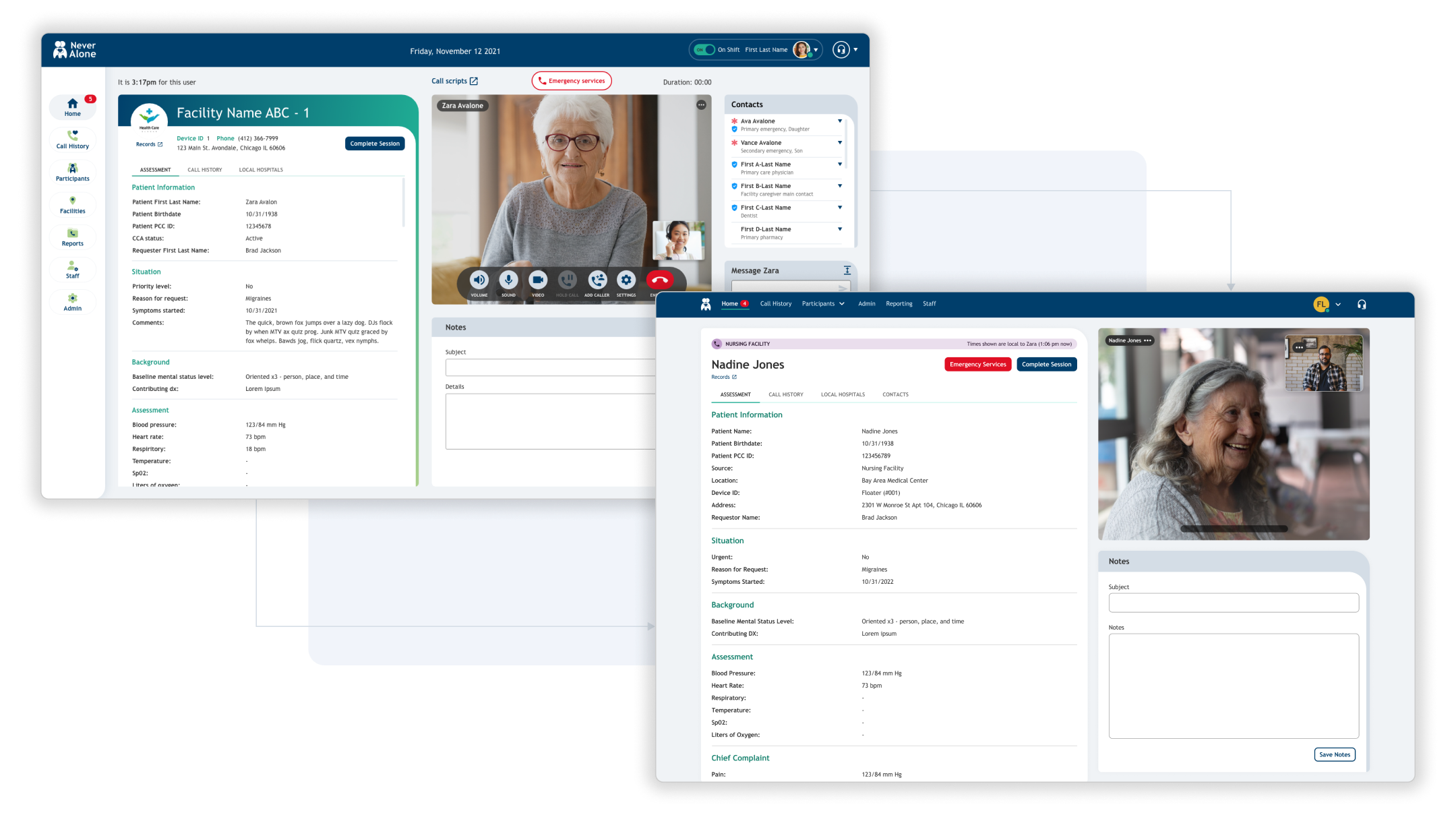 Centralize Calling and Tasks
One of the biggest opportunities and most cited issues with the legacy system was the separation of tasks and the call queue. Users couldn't tell which had priority. We created a consolidated view with color coded tags to streamline this.
Accountability and Reporting
Another capability we were able to consolidate was reporting. Previously outsourced to third party software, we had the opportunity to integrate reporting features directly into the admins view within the product.